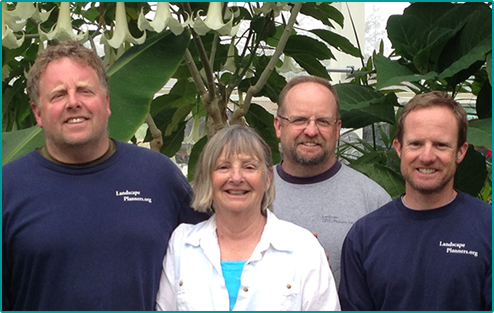 Landscape Planners, Inc has been owned by Helen K. Mulry and operated by her three sons since 1988.
Our philosophy is that a garden is an opportunity to study and learn from Nature.
We specialize in designing and building outdoor spaces specifically for New England utilizing knowledge, enthusiasm and professionalism.
MEMBERSHIP & AFFILIATIONS

Friends of the Arnold Arboretum of Harvard University
International Plant Propagators Society
Ipswich Watershed Association
Massachusetts Arborist Association
Massachusetts Audubon Society
Association Professional Landscape Designers, Former Vice President of New England Chapter
Massachusetts Horticultural Society
New England Wildflower Society
Perennial Plant Association
Royal Horticultural Society
Member of Mass. Nursery and Landscape Association
Member of Northeast Organic Farming Association
Massachusetts Tree Warden and Foresters Association

CERTIFICATES

Association of Professional Landscape Designers
Certified to Administer Mauget Injections
Massachusetts Certified Arborist #1863
Massachusetts Licensed Pesticide Applicator #26007
Master Gardener, Massachusetts Horticultural Society
UMASS Green School Certified Landscape Management
Tree Warden Town of Wenham
Massachusetts Certified Horticulturist
Advanced Green School
Accredited Organic Land Care Professional

RELATED EXPERIENCE

New England Spring Flower Show Judge
Taught Several courses sponsored by the Arnold Arboretum of Harvard University
Proctor for Massachusetts Certified Aborist's Exam

CLIENT HIGHLIGHTS

Shore Country Day School

Landscape Planners has worked with Shore Country Day School since 1990 in implementing, maintaining, and designing various projects with respect to the ever expanding campus.

New England BioLabs

New England Biolabs (NEB) is located in Ipswich Ma. on the former Proctor Estate. The original buildings on the 250 acre site have been restored with the addition of a state-of-the-art research and production laboratory which is LEED certified (Leadership in Energy and Environmental Design)

The numerous gardens located throughout the campus are designed and maintained to blend seamlessly with the surrounding natural landscapes and surrounding eco-systems. The diversity of plant material attract a multitude of insects, birds and small mammals.

The Governors Academy

Founded in 1763, The Governor's Academy is the oldest continuously operating boarding school in America. Landscape Planners has been involved with landscaping projects here since 1989. A particular effort has always been to blend the old and new areas of the campus with a variety of brick, stone, lawn, flowers, trees and shrubs.

Residences

Landscape Planners creates outdoor living spaces to reflect each clients individual lifestyle. Newly designed spaces or reworked gardens are woven seamlessly with the existing elements to create a cohesive design that works for both the client and the site.